In my previous post, 'With Every Negative Comes a Positive', I gave a little insight into the reality of living abroad. Following that, I thought I'd share a week in my life, delving deeper into the reality of working as a language assistant.
I was debating whether to upload this. Of course, I would choose the week in which I have zero plans so this has probably wound up to be the most uneventful, and therefore, most uninteresting blog post yet. Nonetheless, I wanted to share my routine while working as a language assistant. It's more than the 16-hour job which you anticipate it to be. From early mornings and long commutes to meal prepping and lesson planning, the routine can get tedious.
However, for those who are considering the language assistant route in the future, or for anyone who, like me, loves having a good nose, here was my uneventful week:
Monday, 12th November
Oh, Monday, what a joy you were as always. I normally wake up naturally, but my alarm alerted me awake from my slumber. In the usual morning daze, I woke up confused as to what day it was. Monday, right, the early start.
I rolled out of bed, thanked my Sunday-self for prepping some overnight oats and left for my hour and a half morning commute. One thing which made the morning slightly less miserable was listening to Rhiannon Lambert's new podcast. This boosted my mood during my 20-minute walk from the station surrounded by the pink blush of sunrise as the abyss of the early morning sky begins to fade.
It was like any other day really; younger students more attentive than others while I teach them how to ask for directions, the older ones squeal over a video of Fearne McCann eating a live spider on 'I'm a Celeb' during my British TV Lesson, and in music class I, the B grade GCSE music student, taught a lesson on the qualities of sound.
I spent my two-hour long break wading through Wikipedia doing my research on Thanksgiving and watching that clip from Friends when Joey has a turkey stuck on his head. This was followed by the episode where Brad Pitt comes to Thanksgiving dinner. It's a ride.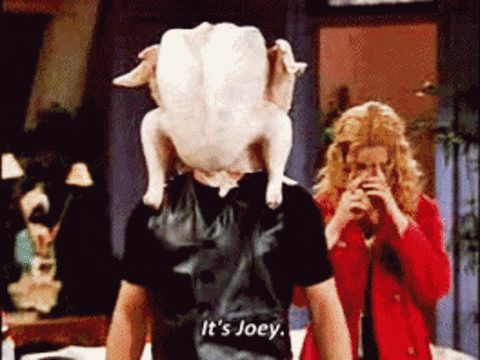 As soon as my growling stomach and I returned home, Sunday night's chilli was shoved straight in the microwave, followed by an hour lost to catching up on emails, social media and general aimless scrolling.
After an hour of work, the 5 am wake up undoubtedly left me exhausted. The evening solely consisted of snacking on a bowl of cereal and an early night.
Tuesday, 13th November
I don't start teaching until midday on Tuesdays, but I kicked the day off with an early morning workout nonetheless. The later start also meant I could spend more time on breakfast, i.e. my favourite time of day. Besides tragically dropping half of it on the floor, what I had of my French Toast was delicious.
I stopped off at the bank before trekking to work. After nearly two months of waiting, I finally received my Spanish bank card. My money only goes towards food really anyway, but at least now I can actually spend my wages.
After a slow three hours of teaching, I spent the evening meal prepping my meals for the dreaded long Wednesday. Then, getting in the festive spirit, I tried to concoct ideas of what my parents possibly want for Christmas. I am the worst at Christmas shopping.
Not a lot more to report really. This is looking out to be a wild week so far.
Wednesday 14th November
Wednesday was mostly spent wishing I was home celebrating my brother's 18 birthday (or just enjoying his birthday cake). But seriously, how is my LITTLE brother 18? Like, an adult? He's already a solid head taller than me, but I can't help but reminisce on the days we played Pokemon on the landing or sported matching white polo shirts with Dora the explorer iron on stickers.
But back to adult life, Wednesday are the longest days of the week. I wake up at five and return home 12 hours later. To my delight, some students were striking today. Of course, only my first and last period students were not taking part. Yep, I pretty much had a five-hour break spent in a box, otherwise known as the English department office. I would have got some work done if it weren't for the Internet deciding to play up halfway through the day.
After another microwaved meal straight from the freezer, I had a little Primark shop. I initially intended to buy an umbrella, the previous days' winds practically destroying my other one. However, I came out with a new black skirt, a water bottle, and I couldn't resist buying a festively decorated tube of mini rolos.
Thursday, 15th November
Honestly, Thursday wasn't a good day.
It was my final day of teaching before the long weekend. However, my patience was running thin while students refused to pay attention or interact with anything I asked them. This was followed by another hour of trying to maintain the attention of an entire class of 11-year-olds. It all got a bit much. Basically, panic took over and I went home at lunch.
Some days are easier than others. Weeks of incessant lesson planning and trying to control and entertain a classroom (with no prior experience) is taking its toll. It's not easy. But, I went home, forgot about teaching, and after tearing up at the new John Lewis Christmas advert, switched off from social media by reading a good book from start to finish. For any fellow bookworms, it was 'Outside' by Sarah Ann Juckes – so good!
Friday, 16th November
Do you ever wake up after a day of feeling miserable and feel kind of pathetic, or as if it was all for nothing? Part of it was probably down to being relieved it was a Friday.
I should have pushed lesson prep to the side. However, I wanted to finish off everything for the upcoming week so I could relish in my three days of freedom. I did, however, decide to go to the cinema with the intention of cheering myself up after Thursday's antics – I came out bawling. Bohemian Rhapsody was amazing. Yes, maybe not the happiest of endings to raise my spirits, but if you only do one thing this week, go see that film.
With Queen's entire discography as a backtrack, I spent the rest of my Friday writing a few book reviews and generally dawdling around.
Saturday, 17th November
I said it. This will wind up being the most uninteresting blog post to date.
After a morning workout, I popped to Mercadona for my weekly shop. I walked in with the intention of just picking up a few weekly essentials. I walked out with smoked salmon, guacamole and a fridge full of food I now need to get through (shouldn't be difficult by any means). Does anyone else just love food shopping? God I'm dull.
I had a leisurely Saturday planning meals for the week, compiling a list of books I want to read from my Goodreads TBR shelf and started watching Killing Eve after finishing up the second season of The Sinner which I absolutely loved.
Sunday, 18th November
Sometimes I feel as if I should be exploring Madrid at every given opportunity. However, sometimes I just want to take it slow. I had a wander around the Puerta del Sol and noticed they had their Christmas tree up! It's not being lit until the 23rd November but it made my Christmas-crazed self all excited anyway. Returning to the flat, I swapped my jeans for my pyjama bottoms and finished up this blog post. Also, I always crave a Sunday roast once it hits the afternoon, my chicken and frozen veg a disappointment in comparison.
So, as predicted, this was the most uneventful week. Nonetheless, I hope to have shown that your year abroad isn't always going to be full of exotic food and trips away. I completely romanticised this year before arriving. The reality is, after standing up in front of four different classes full of thirty kids who can't stop talking, I'm too exhausted to do much else. Yes, this week was a dull one in comparison to others, but I can't say I'm sipping on Sangria and delving into the Spanish cuisine all too often.
If anything, this blog post has made me realise that perhaps I'm not making the most of the experience, letting my stress, homesickness and anxiety dominate my time here. But anyway, that was my week! If you managed to get through it all, you deserve an extra chocolate orange this Christmas.
Thanks for reading!
Evie.
♥